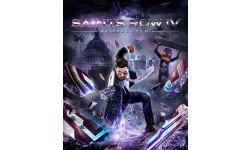 TEST - Saints Row IV: Re-Elected - Que vaut le nouveau mandat sur PS4 et Xbox One ?
par Auxance M.
Compilation = ré-élection ?
En plus du stand-alone Saints Row: Gat Out of Hell, Volition a lancé un certain Saints Row IV: Re-Elected & Gat Out of Hell, exclusivement sur PS4 et Xbox One. Cette édition propose bien évidemment la nouvelle aventure, mais aussi un portage du dernier épisode, accompagné de toutes ses extensions parues depuis son lancement.
Au programme, tout le contenu de la compilation pour la précédente génération, Les Bijoux de la Famille, pour une vingtaine de DLC : le Commander-in-Chief Pack, le Online Pass, le Volition Comics Pack, le Season Pass, le Rectifier, l'Executive Privilege Pack, le Brady Games Pack, le Grass Roots Pack, le Presidential Pack, le Dubstep Gun (Remix) Pack, le Wild West Pack, le GAT V Pack, l'extension Enter The Dominatrix, le Super Saints Pack, le Pirate's Booty Pack, le Thank You Pack, l'Element of Destruction Pack, le Zinyak Attack Pack, le Hey Ash, Whatcha Playin'? Pack, l'extension How the Saints Save Christmas, l'Anime Pack, le Stone Age Pack, le Bling Bling Pack, le Reverse Cosplay Pack, le GameStop Warped Weapon Challenge, le Game On, le College Daze et le Merica Gun.
Mais ce portage vaut-il le coup de repartir pour un nouveau mandat ? La réponse, maintenant !
| | |
| --- | --- |
| | Achat chez notre partenaire |
Note : test réalisé à partir d'une version PS4.