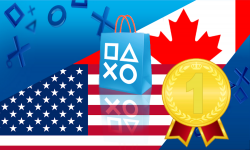 PlayStation Store : les tops du top américains (juillet 2013)
par Martial Duchemin
Wanda to Kyozô en tête. De quoi ?
Place aux différents classements concernant diverses productions sur PlayStation Store nord-américain. Jeux PS3, PSP, PSVita, miniS et classiques se dévoilent aujourd'hui. Quels sont les titres qui ont su attirer les joueurs de l'Ouest ?
Concernant les perles PS3 et PSN, le fantastique The Last of Us se fait battre par le terrible Wanda to Kyozô, connu plus précisément sous le nom de Shadow of the Colossus par chez nous. Mortal Kombat, lui, se place à la troisième place. Au onzième rang, nous avons du LEGO Batman 2: DC Super Heroes, suivi de NCAA Football 14 et Prince Of Persia Classic Trilogy HD. Au niveau des extensions, et sans surprise, c'est Call of Duty Black Ops II qui domine. Pour ce qui est des miniS et des classiques, Monopoly se pavane du haut des marches avec Metal Gear Solid.
Passons aux portables de Sony Computer Entertainment. Sur PlayStation Vita, c'est le terrible Mortal Kombat de poche qui capture la médaille d'or. Sur PSP, c'est Crimson Gem Saga qui se la coule douce. Concernant les hits PlayStation Mobile, Tokyo Jungle Mobile finit à la première place.
Top 20 Jeux PSN et PS3
1 - Shadow of the Colossus
2 - The Last Of Us
3 - Mortal Kombat
4 - Batman: Arkham Asylum
5 - Ratchet & Clank: Collection
6 - Star Wars The Force Unleashed II
7 - Magic 2014 — Duels of the Planeswalkers
8 - Grand Theft Auto IV
9 - Alice: Madness Returns
10 - Scott Pilgrim vs. the World: The Game
11 - LEGO Batman 2: DC Super Heroes
12 - NCAA Football 14
13 - Prince Of Persia Classic Trilogy HD
14 - Lord of the Rings: War in the North
15 - Call of Duty: Black Ops II
16 - Stealth Inc: A Clone in the Dark
17 - Terraria
18 - X-Men
19 - LEGO Pirates of the Caribbean: The Video Game
20 - Just Cause 2
Top 10 Extensions PS3
1 - Call of Duty: Black Ops II Uprising
2 - The Walking Dead: 400 Days
3 - Call of Duty: Black Ops II Nuketown Zombies Map
4 - Call of Duty: Black Ops II – Revolution
5 - Injustice: Gods Among Us The Man of Steel Pack
6 - Call of Duty: Black Ops II Vengeance
7 - Injustice: Gods Among Us Martian Manhunter
8 - The Elder Scrolls V: Hearthfire
9 - Injustice: Gods Among Us Blackest Night Pack 2
10 - Injustice: Gods Among Us – Zombie Mode
Top 10 PSVita
1 - Mortal Kombat PS Vita
2 - LEGO Batman 2: DC Super Heroes PS Vita
3 - Hotline Miami PS Vita
4 - Silent Hill: Book of Memories
5 - Muramasa Rebirth
6 - Persona 4 Golden
7 - Farming Simulator
8 - Total Recoil
9 - Guacamelee! PS Vita
10 - Stealth Inc: A Clone in the Dark PS Vita
Top 5 PlayStation Mobile
1 - TOKYO JUNGLE Mobile
2 - CHAOS RINGS
3 - Sola Radio
4 - Beats Trellis
5 - Cytus Lambda
Top 10 PS2 Classics
1 - Metal Gear Solid
2 - Grand Theft Auto: San Andreas
3 - FINAL FANTASY VII
4 - Capcom vs. SNK 2: Mark of the Millennium 2001
5 - The Warriors
6 - Bully
7 - Grand Theft Auto: Vice City
8 - Crash Bandicoot
9 - FINAL FANTASY IX
10 - FINAL FANTASY VIII
Top 10 PSP
1 - Crimson Gem Saga
2 - Shin Megami Tensei: Persona 3 Portable
3 - Star Wars: Battlefront II
4 - Riviera: The Promised Land
5 - The Lord of the Rings: Aragorn's Quest
6 - Class of Heroes
7 - Hexyz Force
8 - Yggdra Union
9 - Grand Theft Auto: Vice City Stories
10 - Knights in the Nightmare
Top 10 miniS
1 - Monopoly
2 - The Impossible Game
3 - Gamocracy One : Legend of Robot
4 - Jetpack Joyride + 150K Coins
5 - Zombie Racers
6 - Carnivores: Dinosaur Hunter
7 - PAC-MAN Championship Edition
8 - HISTORY Ice Road Truckers
9 - N.O.V.A.
10 - Wizorb